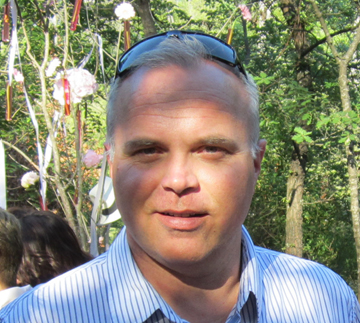 Biographie
Dr Gilles Lambert

Diabète athérothrombose Thérapies Réunion Océan Indien  (UMR DéTROI  U1188) – Université de La Réunion-CYROI- 2, rue Maxime Rivière  97490 Sainte Clotilde – La Réunion – France
Tel : (262) 262  Fax : (262) 262 93 82 37
Gilles Lambert is Professor in Cell Biology and Biochemistry at the University of La Réunion Medical School (France) and a principal investigator at Inserm UMR1188 DéTROI.
Dr Lambert was awarded a PhD in Pathophysiology from the University of Paris in 1998. He specialized in lipidology, first as a post-doctoral fellow at the Molecular Disease Branch of the National Institutes of Health (Bethesda MD, USA) and as a senior research fellow at the Heart Research Institute (Sydney, NSW, Australia).
Since 2003, Dr. Lambert has conducted seminal research projects on PCSK9, a major inhibitor of the LDL receptor. He has received several competitive research grants in Australia (NH&MRC) and in France (ANR) to study the cardiovascular benefits and potential side effects of PCSK9 inhibition.
Recent Publications
2014
F Tabet, KC Vickers, LF Cuesta Torres, CB Wiese, BM Shoucri, G Lambert, C Catherinet, L Prado-Lourenco, MG Levin, S Thacker,
 P Sethupathy, PJ Barter, AT Remaley and KA Rye (2014) "HDL-transferred microRNA-223 regulates ICAM-1 expression in endothelial cells " Commun. 5,3292.
J. Kwakernaar, G. Lambert, and R.P. Dullaart (2014) "PCSK9 is predominantly related to intermediate density lipoproteins" Clin. Biochem. 47, 679-682.
G Lambert, F Petrides, M Chatelais, DJ Blom, B Choque, F Tabet, G Wong, KA Rye, AJ Hooper, JR Burnett, PJ Barter and AD Marais (2014) "Elevated plasma PCSK9 is equally detrimental for non-familial hyper cholesterolemic (non-FH) and heterozygous FH patients, irrespective of their LDL receptor defects" Am. Coll. Cardiol. 63,2365-2373.
A Tran Dinh, A Levoye, G Lambert, L Louedec, C Journé, O Meilhac, and P Amarenco (2014) "Low levels of low density lipoproteins-C associated with PCSK9 inhibition do not increase the risk of hemorrhagic stroke" S 45,3086-3088.
G Lambert, M Chatelais, F Petrides, M Passard, A Thedrez, KA Rye, U Schwahn, V Gusarova, DJ Blom, W Sasiela, and AD Marais (2014) "Normalization of Low-Density Lipoprotein Receptor Expression in Receptor Defective Homozygous Familial Hypercholesterolemia by Inhibition of PCSK9 With Alirocumab" Am. Coll. Cardiol. 64, 2399-2300.
2015
AD Marais, JB Kim, SM Wasserman and G Lambert (2015) "PCSK9 Inhibition in LDL Cholesterol Reduction: Genetics and Therapeutic Implications of Very Low Plasma Lipoprotein Levels" Ther. 145,58-66.
B Gencer, G Lambert, and F Mach (2015) "PCSK9 Inhibitors." Swiss Medical Weekly. 145, w14094.
J Besseling, KL Ong, R Huijgen, KA Rye, GK Hovingh, B Hutten, and Lambert (2015) "The impact of LDLR unction on fibroblast growth factor 21 levels" Atherosclerosis. 241, 322-25.
M Croyal, K Ouguerram, M Passard; V Ferchaud-Roucher, M Chétiveaux, S Billon-Crossouard, AC De Gouville, G Lambert, M Krempf, and E Nobécourt (2015) "Effects of extended-release nicotinic acid on apolipoprotein (a) kinetics in hypertriglyceridemic patients " Thromb. Vasc. Biol. 35,2042-7.
PN Hopkins, J Defesche, SW Fouchier, E Bruckert, G Luc, B Cariou, B Sjouke, TP Leren, M Harada-Shiba, H Mabuchi, JP Rabès, A Carrié, C van Heyningen, V Carreau, M Farnier, YP Teoh, M Bourbon, MA Kawashiri, A Nohara, H Soran, AD Marais, H Tada, M Abifadel, C Boileau, B Chanu, S Katsuda, I Kishimoto, G Lambert, H Makino, Y Miyamoto, M Pichelin, K Yagi, M Yamagishi, Y Zair, S Mellis, GD Yancopoulos, N Stahl, J Mendoza, Y Du, S Hamon, M Krempf, and GD Swergold. (2015) "Characterization of Autosomal Dominant Hypercholesterolemia Caused by PCSK9 Gain of Function Mutations and its Specific Treatment with Alirocumab, a PCSK9 Monoclonal Antibody. " Circ Cardiovasc Genet. 8,823-31.
AC Alves, A Etxebarria, AM Medeiros, A Benito-Vicente, A Thedrez, M Passard, M Croyal , C Martin, G Lambert, and M Bourbon (2015) "Characterization of the first PCSK9 gain of function homozygote" Am Coll. Cardiol. 66, 2152-2154.
Najam, G. Lambert, and K.K. Ray (2015) "The past, present and future of lipid lowering therapy" Clin Lipidol . 10, 481-498.
2016
A Loregger, EC Cook, JK Nelson, M Moeton, LJ Sharpe, S Engberg, M Karimova, G Lambert, AJ Brown, and N Zelcer. (2016) "A MARCH6 and U3 ubiquitin ligase circuit uncouples cholesterol synthesis from lipoprotein uptake in hepatocytes" Cell. Biol. 36, 285-294.
Lambert, N. Diotel, and H Tavori (2016) "The biology of PCSK9 inhibition: some unanswered questions" Eur. Heart Journal. in press.
A Thedrez, B Sjouke, M Passard, S Prampart-Fauvet, A Guédon, M Croyal, G Dallinga-Thie, J Peter, D Blom, M Ciccarese, A Cefalu, L Pisciotta, RD Santos, M Averna, F Raal, P Pintus, M Cossu, K Hovingh, and G Lambert (2016) "PCSK9 inhibition for Autosomal Dominant Hypercholesterolemia" Thromb. Vasc. Biol. in press.