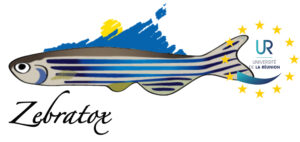 THE ZEBRATOX PROJECT
In connection with a FEDER FRE0022527 funding involving the European Union, the Région Réunion, the University of La Réunion, and the national counterpart.
The team :
Researchers – project leaders: Nicolas Diotel (MCU-University of La Réunion), Jean-Loup Bascands (DR-Inserm).
Research engineer: Laura Gence (CDD)
Administrative manager: Aina Kamardine-Mohamed (Assistant engineer-CDD)
Assistant engineers : Anaïs Hoarau (CDD), Matthieu Bringard (Inserm)
Student: Batoul Ghaddar (PhD student)
The UMR DéTROI has oriented its research objectives along two axes:
Axis 1: The first research axis proposes new bacterial and lipid hypotheses concerning: 
The development of type 2 diabetes (insulin resistance, pancreatic beta cell dysfunction).
Vascular complications of diabetes (atherothrombosis, stroke, microangiopathies and especially diabetic nephropathy).
We hypothesize that common mechanisms involving oxidative stress and chronic low-grade inflammation could be related to significant lipoprotein stress (LDL, Lp(a)) and/or chronic exposure to bacteria or bacterial components (lipopolysaccharides, peptidoglycans, bacterial proteases,…)
Axis 2: The second axis of research is transversal and focuses on innovative therapies: these therapies are based on the plant biodiversity of Reunion Island associated with nutritional and/or therapeutic approaches aiming at limiting the effects of lipidic and bacterial stresses by anti-oxidant and anti-inflammatory strategies. Indeed, extracts rich in polyphenols of endemic or native plants of Reunion Island will be characterized and then used at different stages of metabolic and vascular perturbations. Bio-guided in vitro and in vivo approaches will allow us to target the active molecules of the plant extracts. In addition, we have a strategy of vectorization of therapeutic molecules thanks to high density lipoproteins (HDL) (therapeutic approach).
These lines of research imply the implementation of tools allowing a better understanding of the mechanisms leading to diabetes, to the consequences of dyslipidemia (atherosclerosis, cardiac and cerebral ischemia) and to the screening of active ingredients from Réunion's biodiversity in order to limit the effects of oxidative stress and inflammation. Nevertheless, the toxicity of these plant extracts (aqueous or enriched) is not known or little known at the physiological scale, as well as their biological activities (anti-oxidants, anti-inflammatory,"anti-diabetic", regenerative …)
Metabolic diseases: health issues in Reunion
 1.Diabetes:
The prevalence of pharmacologically treated diabetes was estimated at 5.2% of the French population in 2019 (i.e. more than 3.5 million people treated for diabetes: https://www.santepubliquefrance.fr/maladiesettraumatismes/diabete/articles/prevalence-et-incidence-du-diabete ). In comparison, the prevalence of treated diabetes in Reunion Island is twice as high (9.8%) as in metropolitan France as a whole. Contrary to metropolitan France where women represent 47% of diabetics, they are in the majority (56%) in Reunion. Regular measurement of blood sugar levels allows diabetics to ensure that their diabetes is well controlled.
 Regular blood glucose testing allows people with diabetes to ensure that their diabetes is well controlled  
In Reunion, the regional standardized mortality rate is almost 4 times higher than in metropolitan France for the period 2008-2010. Among the causes put forward to explain this high prevalence of diabetes, we note a genetic predisposition but it is the environment that plays the major role. Thus, unfavorable socio-economic conditions associated with rapid changes in lifestyle (mainly diet) are conducive to overweight and obesity and will lead to the development of type 2 diabetes.
2.Obesity: 
Obesity is now a major problem worldwide. In Reunion Island, the latest statistics indicate that one adult out of two is overweight or obese www.ors.org, November 2007). Worryingly, young children and young people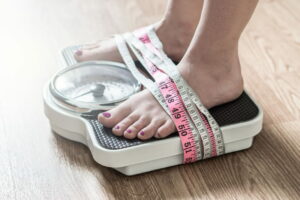 Controlling weight gain to avoid obesity and progression to diabetes. 
adults are not spared: 25% of 10 year old children are overweight and 8% are considered obese. As obesity is the major risk factor for type 2 diabetes, it is undeniable that the fight against this pathology is also at the heart of health concerns in Reunion.
Objectives of the ZEBRATOX project
In view of these epidemiological data and considering the potential of local pharmacopoeia and marine biodiversity, the translational project ZEBRATOX aims to screen the anti-inflammatory, anti-oxidant, vasculoprotective, neuroprotective, nephroprotective, "anti-diabetic" / "anti-obesity" activities of biodiversity and to evaluate the therapeutic potential of the latter.
In order to achieve this objective, we will develop a platform using the zebrafish model (Danio rerio), to test the toxicity, biological activities and therapeutic potential of extracts/molecules from the biodiversity of Reunion Island and more broadly of the Indian Ocean Region. This platform will be accessible to the scientific community of Reunion, metropolitan France and the world.
The zebrafish: a small model for big hopes.
Zebra fish (Danio rerio)
The zebrafish is a laboratory model increasingly used by the scientific community. It has many advantages that make it an animal of choice for screening the toxicity of extracts and molecules from biodiversity as well as their biological activities.
– there is a strong gene homology with humans. Indeed, we share more than 70% of genes in common. This homology is even more important in pathological contexts because 85% of the genes deregulated in these pathologies are in humans and zebrafish.
– The major physiological systems are conserved between humans and zebrafish: cardiovascular system, nervous system, endocrine and immune system.
– The zebrafish, which is induced to develop type 2 diabetes by overfeeding in order to increase body weight and blood sugar levels, is a recognized model that mimics some of the pathophysiological disturbances associated with obesity and diabetic pathology. This makes this model very interesting in terms of public health issues in Reunion Island.
– The zebrafish is an organism endowed with important regenerative capacities allowing a better understanding of the repair mechanisms, such as brain repair, which is disturbed in obesity and diabetic pathology.
– Finally, it is a model of toxicity recognized according to the rules of the Organization for Economic Cooperation and Development (OECD guideline 236)
Diabetes and obesity are well known to disrupt homeostasis within the body. These pathologies induce, among other things, an inflammatory and oxidative stress leading to numerous complications of a :
Cardiovascular (e.g. atherosclerosis, heart disease, stroke)
Renal (ex: diabetic nephropathy)
Regenerative (e.g. wound healing)
Nervous (e.g. cognitive dysfunction, ocular, diabetic neuropathy).
Cerebral: in fact, diabetes and obesity disrupt the blood-brain barrier, an important barrier for preserving cerebral homeostasis. These dysfunctions induced by metabolic disorders will have repercussions on cognition and brain plasticity including neurogenesis and brain repair.
Traditional Pharmacopoeia : a real wealth.
Today, about twenty plants from Reunion are registered in the French Pharmacopoeia. Among them, several have been studied and characterized for their polyphenolic content and studied in vitro on cellular models. Within the framework of the ZEBRATOX project, we will focus on about ten plants, more particularly on plants described for their anti-inflammatory and antioxidant properties (i. e : Antirhea borbonica or osto wood, Syzygium cumini or Jamblon, Hypericurn lanceolatum or yellow flower, Ayapana triplinervis or Ayapana, Psyloxylon mauritianum or brown peach wood, Dodonaea viscosa or arnette wood, Aphloia theiformis or change bark, Turraea thouarsiana or quivi wood, Olea europaea or black olive wood, Coffea mauritiana or brown coffee).
In a first approach we will work mainly on aqueous extracts of plants.  It is essential to first evaluate the toxicity of these extracts on a physiological scale. Thus, we will study the toxicity of our extracts on the zebrafish model with a particular focus on the embryonic and larval developmental phases by studying a number of morphological, developmental and neurobehavioral parameters. Then, at the non-toxic concentration of these extracts, we will study their anti-inflammatory, anti-oxidant, vasculoprotective neuroprotective, nephroprotective, "anti-diabetic" / "anti-obesity" properties in order to evaluate their therapeutic potential. Transgenic fish can be used to facilitate the visualization and quantification of the attacks.