A team of entomologists, Roger Kitching (Griffith University, Australia) and Beverley Kitching, Louise Ashton (University of Hong Kong), John Shillcok and Christophe Thébaud (University of Toulouse) spent a month in La Réunion to survey moths.
In the framework of the Divines Project (Feder) and a grant from National Geographic, this team surveyed moths in ten lowland rainforest sites on La Réunion (Island Biodiv plots) in collaboration with Dominique Strasberg. They will do it twice, once in April then in November 2018.
The goals of these expeditions are to examine site-specific richness and diversity at each locality, species/area relationships, and site-to-site turnover vs distance.
The sampling method uses light traps at each site at ground level. The traps will be run until 500 moths individuals are collected in each location. The by-catch of other taxa will be also kept for future identification.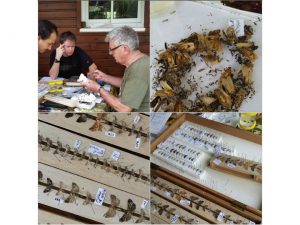 Support in the identification of the specimens was given by Jacques Rochat (Divines Project), and help with the intensive fieldwork by Vincent Legros, Jacques Rochat, Nicholas Wilding, Claudine Ah-Peng and Pierre Staménoff.