New article out !
Highlights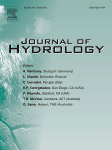 Investigation of cloud water interception in a tropical montane cloud forest.
Forest ecohydrological functioning investigated using two liverwort species.
Novel approach using lysimeters to quantify cloud water flux through bryophytes.
Species intercept cloud water efficiently, but differ in water-holding capacity and flux.
Differences in CWI related to plant architecture as well as microhabitat.